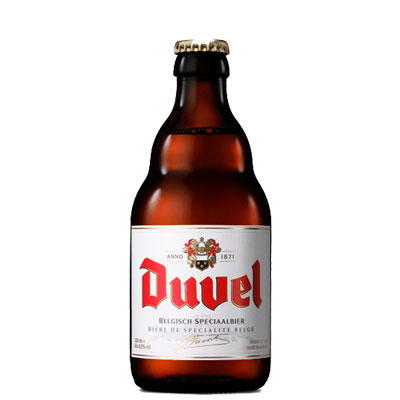 Duvel Triple Hop 2014
ABV: 9.5%
Style: Belgian IPA
---
Reactions and Insights
This truly is one of the world's best beers. If you've never had it, go out and get yourself some. Or at least one. It's expensive.
It's incredibly well balanced, crisp, and flavorful. And all the alcohol — or I should say, just the right amount of it — is masked by the harmony of its elements.
UPDATE: ALERT: The above notes are about the standard Duvel, a Belgian Strong Pale Ale. I had failed to note at the time of consumption that I was actually enjoying the Triple Hop 2014. Um, it was super delicious is all I can remember. And I guess hoppier than the standard Duvel? As a hops lover this can only improve my love of a superb beer. All ratings stand.
Additional Reflections and Suggestions
I'm touched by how Chris (my brother, giver of this gift) loaded the last week with beers he knew I would like. And I'm touched by the amount of effort and money he put into making such a wonderful gift. We need to come up with a way to market this in time for the next holiday season.
Would I drink a case of it? 
Oh yes.
Did it contribute to my holiday spirit?
Sure. But what is holiday spirit, anyway? Just kidding.
Beth's Grade
10
Objective Grade
10
Label Notes
It's timeless and great. I read the history of Duvel on its website, and while it shows some very old advertising material and pictures of buildings, it doesn't talk about the genesis of the logo or label design. But I'm pretty sure they've been using this label (or a similar incarnation) since at least the late '70s. The wordmark is assertive and full of old-fashioned character, and the touches of gold feel just right. And it's got that cool crest. 10/10